<![if !vml]><![endif]>

<![if !vml]><![endif]>

<![if !vml]><![endif]>
Sow~A~Seed & Reap~A~Harvest


Allow the Lord to speak to your heart in being a partner to this ministry in sowing a seed that will help the kingdom in true ministry. Plant a seed into this fertile ground and indeed you will reap an abundant harvest.
Grace and Peace!
USE THE LINKS BELOW TO SOW YOUR SEED
We greet you in the matchless name of our Savior Jesus Christ. We bless God for your presence here at our site where God is magnified and miracles do happen. God is worthy to be praised. First Lady Threadgill and I would like to invite you to explore our cyber-church and be blessed. Ministry comes in many forms and ways, so open up your heart and let the Lord God bless you real good. We strive to help those the Lord entrust to our care. We endeavor to help build the kingdom for God and reap all that God has for us and help other to obtain what the Lord have for them. This is your destiny.
<![endif]--><![if !vml]>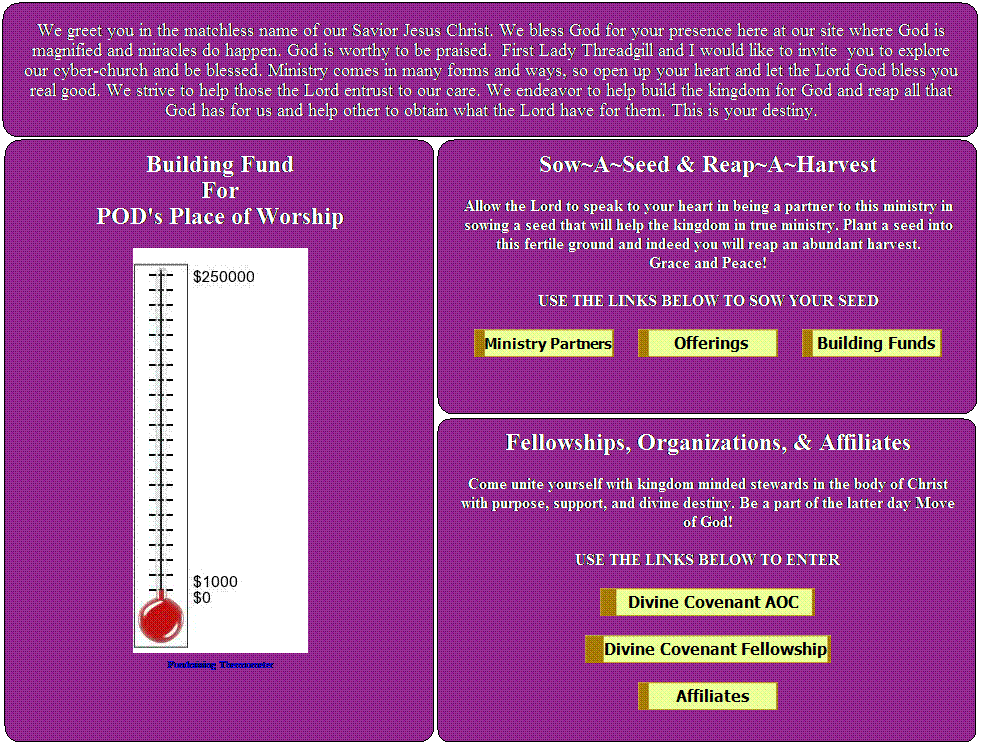 <![endif]>
Paradise of Deliverance Worship Center Copyright © 2011
All Rights Reserved.